Pair of IP Evo Wheels Supermotard for KTM *Required step
Pair of IP Evo Wheels Supermotard for KTM
For KTM SX SXF EXC EXC-F from 2003 to now from 125 to 540 cc
€0.00
Couleurs indicatives, ne peut pas refléter avec exactitude la réalité 
€0.00
Lot de chambres à air pour les deux roues avant et arrière à - 10%
€0.00
Disque de frein NG rond ou Wave
€0.00
Kit visserie pour disque arrière et moyeux SM Pro
€0.00
Couronnes Moto Master ou ART
€0.00
Kit visserie pour couronne et moyeux SM PRO
€0.00
Disque route et racing, Moto Master, Beringer ou Braking,
€0.00
Kit visserie pour disque avant et moyeux SM PRO
€0.00
Pour étrier d'origine avec disque de 320mm
€0.00
Selection de pneus supermotard homologués en 17 pouces
Paire de pneus en 120/70-17 et 150/60-17 ou 120/70-17 et 160/60-17
ou slick compétition avec le 16 pouces avant et 160 arrière
/ Montage OFFERT /
IP Evo Wheels supermotard rim kit for KTM
Available for all KTM SX SXF EXC EXC-F and SMR since 2003 from 125cc upwards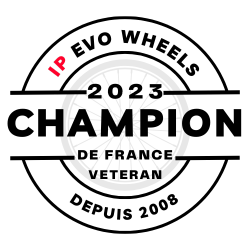 The IP Evo Wheels developed since 2010 have evolved over time to become the market leader in Premium wheels.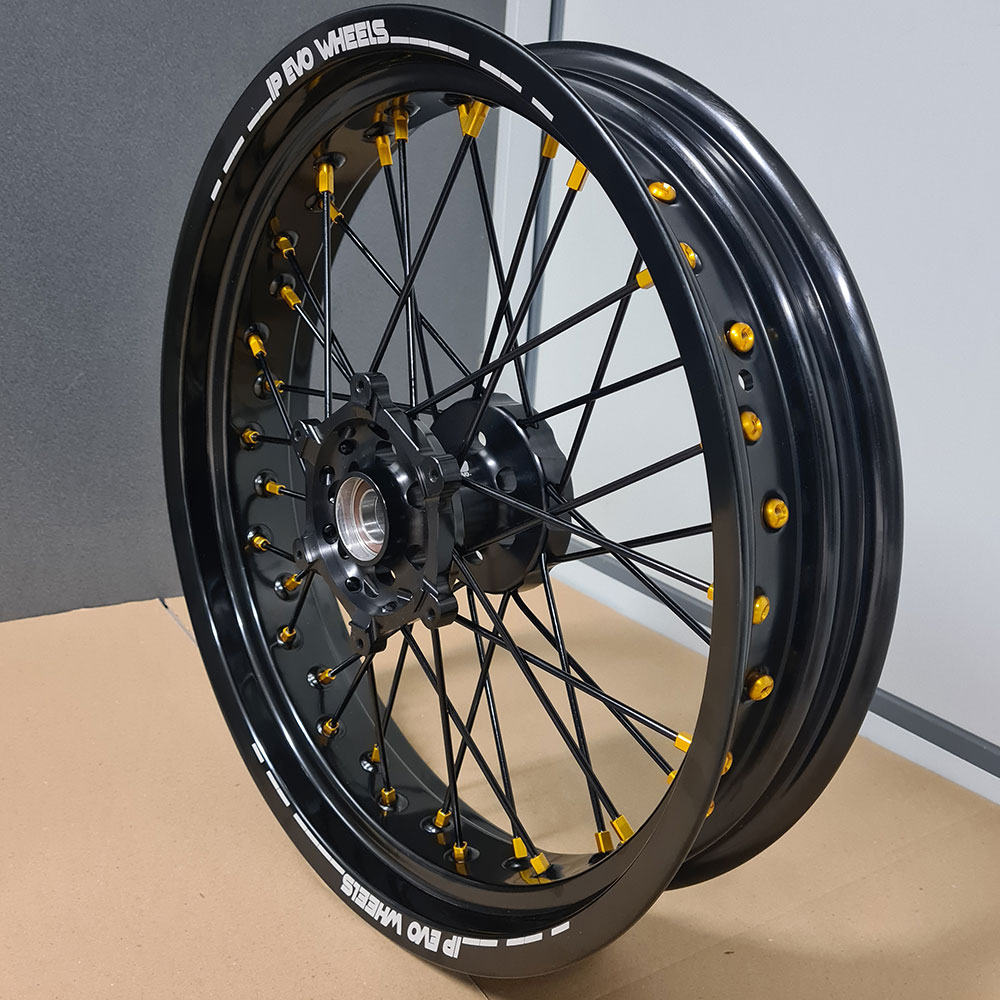 They are fitted with GLM rims from Giant, renowned the world over for their reliability, and suppliers to the likes of Alpina and SM Pro Platinum.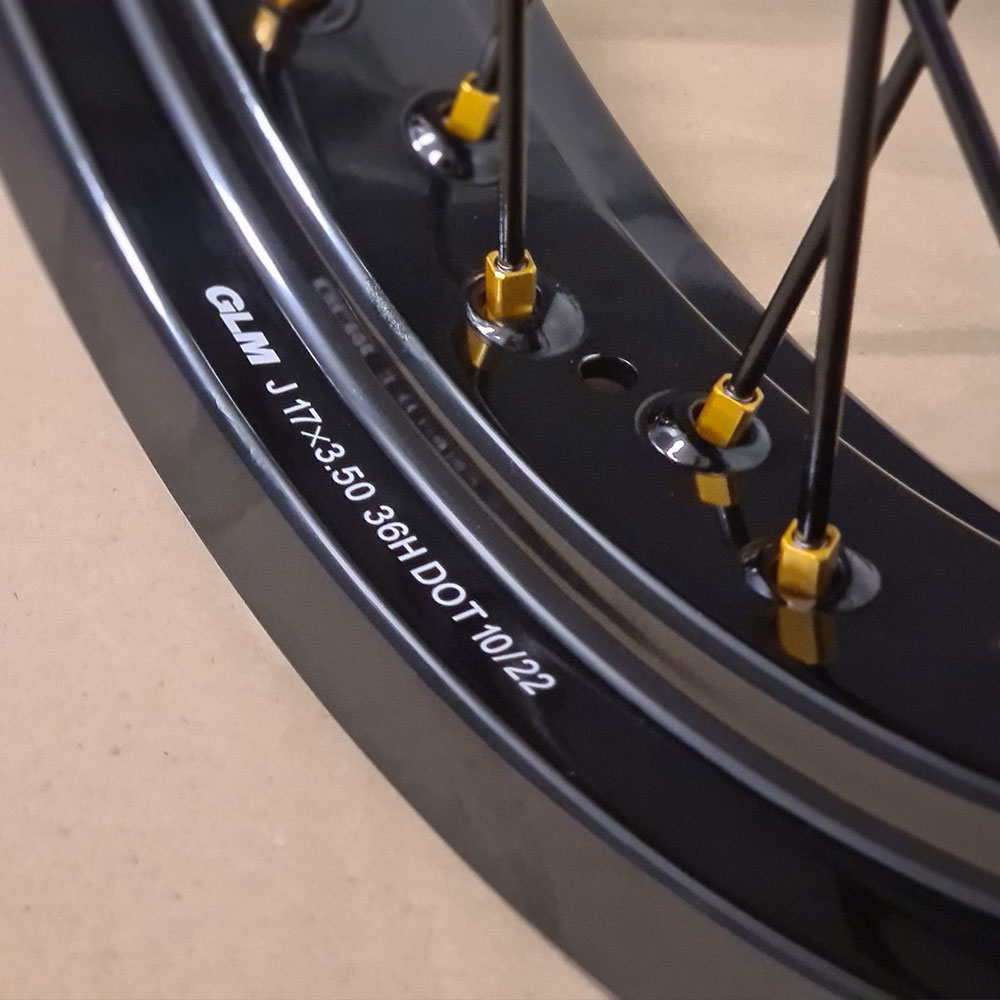 GLM rims are a guarantee of quality. Made from 7050 T6 aluminium, they give the wheels robustness and the reliability required over the years.
They are fitted with hubs cut from 6082 anodised aluminium, for the reliability you demand.
The 4mm 304 stainless steel spokes provide durability and flexibility over time, and are assembled with anodised aluminium spoke-heads.
All our wheels are supplied with black anodised spacers and fitted with spy seals and sealed bearings for increased durability and rim bottom.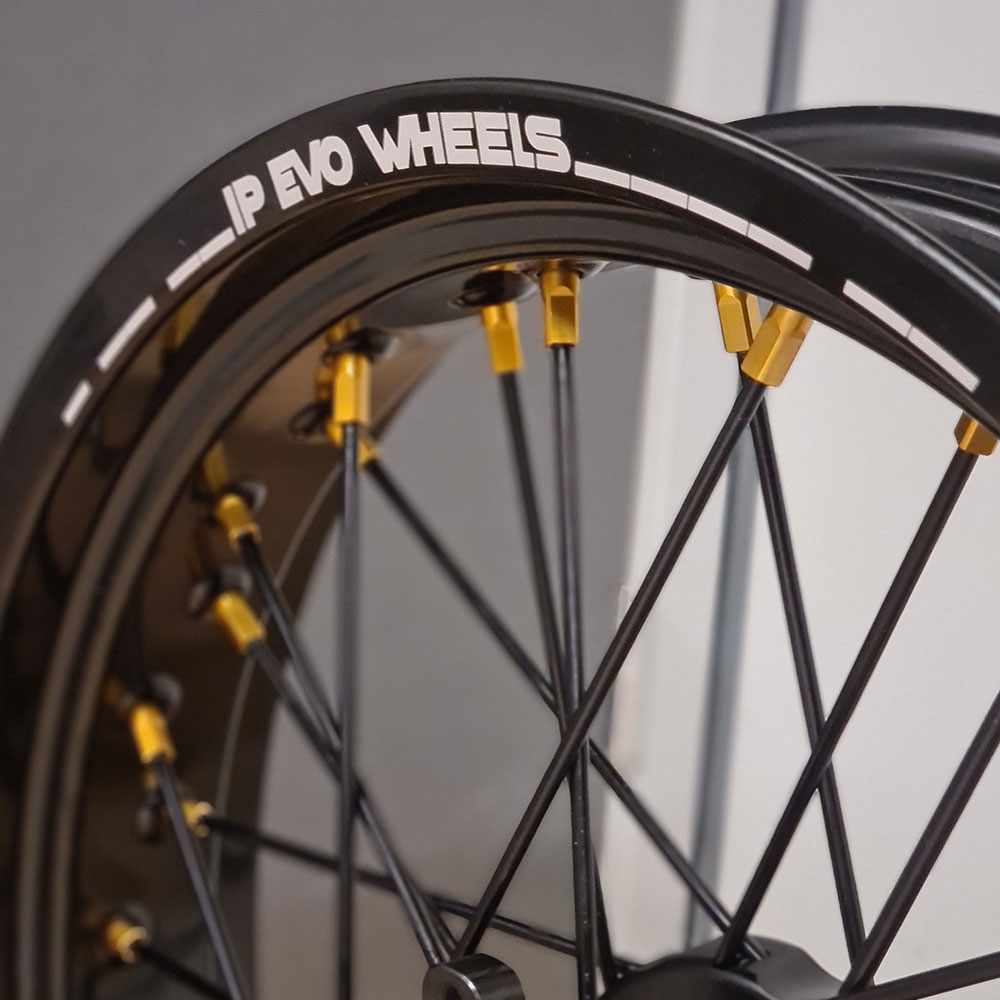 The supermotard wheel kit consists of :
CNC machined 6082 anodised ALU hubs
GLM (Giant) rims in black ALU 7050 T6 + rim tape
Black 4mm 304 stainless steel spokes
Anodised CNC aluminium spoke head nipple.
CNC aluminium wheel spacers + dust cover
Sealed wheel bearings
We test our rims in the most extreme conditions, and racing is one of them, with a number of podium finishes to their credit. Renowned champions such as Rodrig THAIN and Richard FURA give us their experience and their opinions on developments.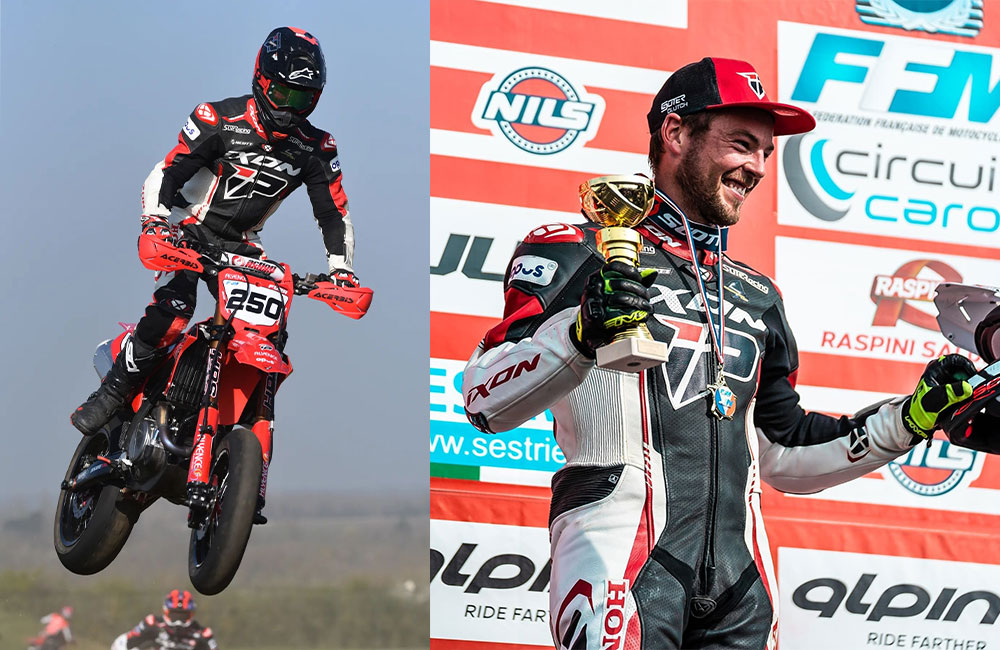 With more than 3,000 rims sold in 12 years, we have acquired experience and a reputation that now extends beyond our borders to become a benchmark.
Since the beginning of 2023, we have quadrupled our stock to respond as quickly as possible to your requests. Delivery times vary according to the time of year and the activity of our workshop. You should allow between 1 and 2 weeks for the assembly of a complete set of rims.
When you place your order, if you order tyre(s), we'll fit them to your rims free of charge, so that they're ready to drive as soon as they're delivered.
The configurator allows you to select numerous options, such as the colour of your wheels, the supermotard brake disc, the crown or the fitting of a tubeless kit.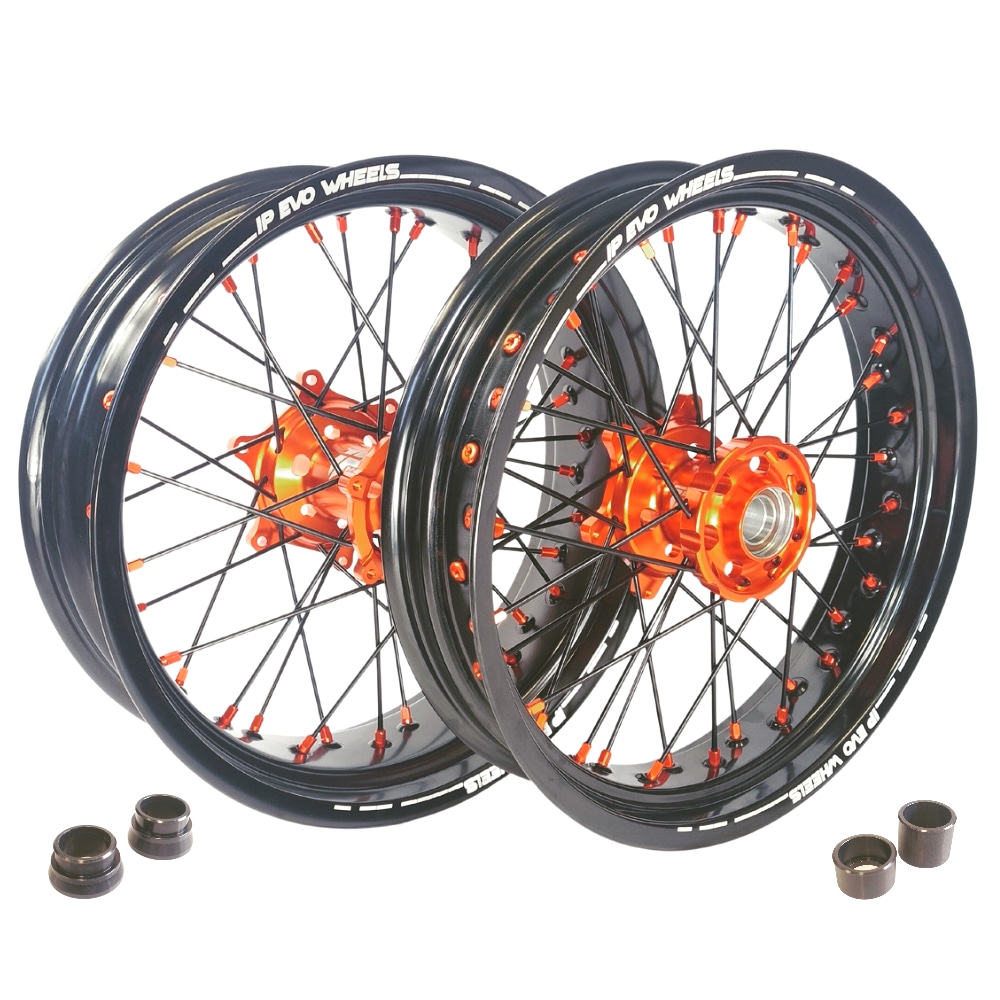 We'll be happy to give your order the attention it deserves.